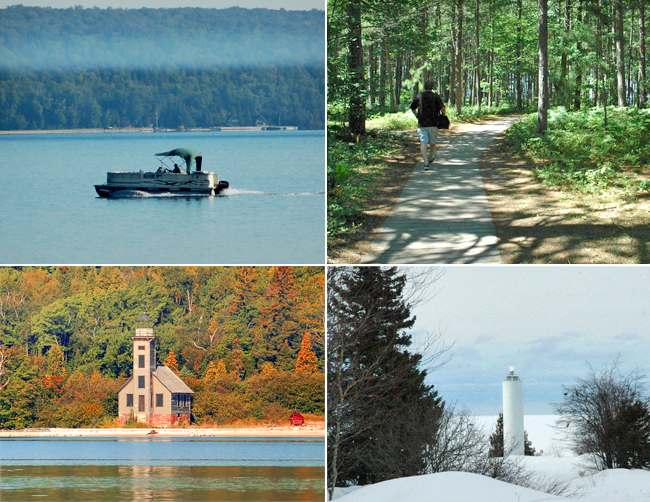 Year-round Excitement
Four fun-filled seasons - a never ending supply of recreational resources in Michigan's Beautiful Upper Peninsula. 14 of our Munising Rental Homes are located in the Hiawatha National Forest of Michigan's Upper Peninsula and Vista Grand Lodge is on Lake Superior on Munising Bay.

Springtime- Springtime is special here in Munising. Enjoy trout fishing the many lakes and streams within the Hiawatha National Forest. Fish for your dinner & watch as the beauty of the Hiawatha National Forest comes to life again! The area falls at this time of year are gushing with newly released water.

Summer - Cameras are a must all year round!! In the SUMMER, enjoy your day biking, hiking, or sightseeing, canoeing, four whelling, relaxing by a campfire, take a beautiful Pictured Rocks Cruise; glass bottom boat ride to view fish and shipwrecks; rent a kayak or jet ski; or, shop in one of many gift shops in Munising, then you can enjoy a fine meal at one of the many local restaurants.

Autumn - Fall in Munising is a photographers dream! Take scenic byway Highway 13 along the stretch of 36 miles full of color in the fall. This is also the perfect time and place for hunting partridge, deer and bear!

Winter - The winter in the Hiawatha National Forest is unbelievable! The beauty alone will blow you away, with newly fallen snow blanketing pine trees, creating a white tunnel throughout the forest. Snowmobiling, the biggest draw to the Upper Peninsula in the winter, is spectacular in the Munising area on over 250 miles of snomobile trails that take you through picturesque scenery you can only imagine! Winter activities include snowmobiling, cross country skiing , sledding, ice fishing, just to name a few. No matter what your family outdoor recreation activities may include, we've got 15 perfect locations. Each rental property has its own character, amenities and scenic surroundings. Our Munising, Michigan Rental Homes are prepared for you with all the comforts and conveniences of home.