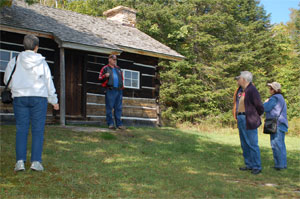 Grand Island National Recreation Area
Grand Island is located in Lake Superior, about 1/2 mile from the mainland of Munising, Michigan & 43 miles from Marquette, Michigan. A National Recreation Area since 1989, Grand Island's natural beauty and history make it an attractive place to spend a day. Travel to and from the island by private watercraft or ferry service. The ferry departs from Grand Island Landing on the mainland during the Summer and early Fall. For more info, please call: 906-387-3503.

Hiking and Mountain Biking
Hiking and mountain biking trails provide wonderful opportunities for day trips and give access via unsurfaced trails to some of the Island's most spectacular scenery. Roads and trails on the island are currently maintained to low standards and some may have washouts, fallen trees, etc. When travelling to and from the Island, it is important to keep in mind the ferry schedule as you plan your time on the island. Note: the bridge across North Light Creek at the far north end of the island is washed out and is closed due to unsafe conditions. When hiking and biking on the island roads, please be aware that you must share some of the roads with vehicular traffic. Drinking water is not available on the island.
Fishing, Hunting, Trapping and Nature Watching
Day visitors may find a variety of ways to enjoy the island's wildlife. For anglers, Echo Lake offers bass, pike, and pan fish. Murray Bay has perch, pike, walleye, and rock bass. In Trout Bay, and all around the island, lake trout and coho salmon may be caught by trolling. Game species on the island include bear, deer, rabbit, grouse and duck. A Michigan fishing, hunting and/or trapping license is required.
Camping
Currently, there are six designated campsites on Grand Island: two at Murray Bay and four at Trout Bay. At each designated site, campers must set up their tents within 15 feet of the site marker post, and fires are allowed only in the metal fire ring provided. Fires are prohibited on the beach and outside of fire rings. Permits are not required for these campsites. Each campsite at Murray Bay can accommodate up to six people with a maximum of two tents per site. On Trout Bay, four campsites can accommodate up to four people each, with a maximum of two tents per site. Random camping is allowed on the island (with the exception of the tombolo).
Random sites must be more than 100 feet from:
Lake Superior or its cliff edge
Other campsites or recreation developments
Private property
Trails and roads
Inland lakes
Named creeks and
The Research Natural Area
If you like strolling along sandy beaches, taking a dip in clear refreshing water, biking atop 300 foot sandstone cliffs with a spectacular view of Pictured Rocks, or camping beneath a sky filled with stars, then Grand Island is the place for you.
If you need to catch a ride over to Grand Island, you can hop aboard the passenger ferry provided by the Grand Island Ferry Service. The ferry to Grand Island departs from the Grand Island Landing. The landing is located one mile west of the Munising City Limits.
Times are as follows
From Memorial Day Weekend to Oct. 9
9:00 a.m., noon, 3:30 p.m., and 6:30 p.m.
After Labor Day the 6:30 p.m. trip will be dropped.
For Ticket Information call (906) 387-3503
The Ferry will take a short trip around the Island where you can view historic sites of Native American settlements and you will also get a good look at the East Channel Lighthouse. Through the viewing well on the ferry you will be able to get an awesome view of the Bermuda ship wreck.
Once on the Island you can jump aboard the ALTRAN bus for a breathtaking tour of the Island. The tour lasts about 2 1/2 hours. The buses are wheelchair accessible but the trails on the island are sandy and uneven. There are no toilets on the tour route.
Hiking and mountain biking are popular day time activities along the island's open travel ways, but you must be aware that some roads are shared with motor vehicles. If you plan on bringing a dog it must be on a leash at all times except when hunting. There is a site on Murray Bay that is designated for picnicking and sightseeing no camping is aloud on this site.
There are six designated camping sites on Grand Island; two at Murray Bay, and four at Trout Bay. At each site your tent must be within 15 feet of the camp site marker post. All fires must be contained within the metal fire ring provided. Visitors must not build fires on the beaches or outside the fire rings. Permits are not required at this time for these sites. The sites located at Murray's Bay have a size limit of six campers per site and a max of two tents per site. The sites on Trout Bay have a limit of four campers and two tents per site. Random camping outside these sites are permitted but camp fires are not allowed at your site. Random sites must be 100 feet from Lake Superior and its cliffs, other campsites, private property, trails, inland lakes, named creeks, and the Research Natural Area (RNA).