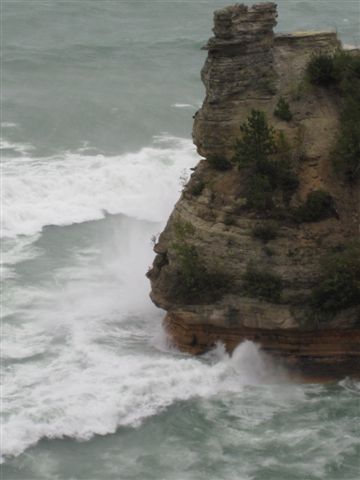 Pictured Rocks National Lakeshore is a U.S. National Lakeshore on the shore of Lake Superior in the Upper Peninsula of Michigan, United States. It extends for 42 miles (67 km) along the shore and covers 73,236 acres (114 sq mi; 296 km2). The park offers spectacular scenery of the hilly shoreline between Munising, Michigan and Grand Marais, Michigan, with natural archways, waterfalls, and sand dunes.

Pictured Rocks derives its name from the 15 miles (24 km) of colorful sandstone cliffs northeast of Munising. The cliffs are up to 200 feet (60 m) above lake level. They have been naturally sculptured into shallow caves, arches, formations that resemble castle turrets, and human profiles, among others.

Near Munising visitors also can view Grand Island, most of which is included in the Grand Island National Recreation Area and is preserved separately.

The U.S. Congress made Pictured Rocks the first officially-designated National Lakeshore in the United States in 1966. It is governed by the National Park Service (NPS), had 22 year-round NPS employees as of May 2006, and received 476,888 visitors in 2005.