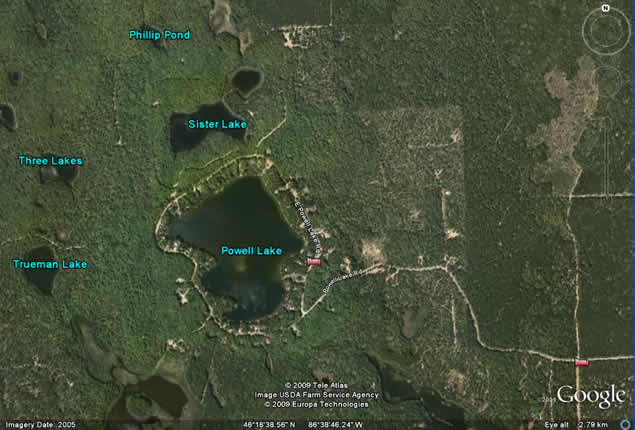 Figures

LENGTH: 350 miles / 563 km.

BREADTH: 160 miles / 257 km.

AVERAGE DEPTH: 483 ft. / 147 m.

MAXIMUM DEPTH: 1,332 ft. / 406 m.

VOLUME: 2,900 cubic miles / 12,100 cubic km.

WATER SURFACE AREA: 31,700 sq. miles / 82,100 sq. km.

DRAINAGE BASIN AREA: 49,300 sq. miles / 127,700 sq. km.

SHORELINE LENGTH (including islands): 2,726 miles / 4,385 km.

ELEVATION: 600 ft. / 183 m.

OUTLET: St. Marys River to Lake Huron

RETENTION/REPLACEMENT TIME: 191 years

NAME: The first French explorers approaching the great inland sea by way of the Ottawa River and Lake Huron referred to their discovery as le lac superieur. Properly translated, the expression means "Upper Lake," that is, the lake above Lake Huron. Kitchi-gummi, a Chippewa Indian translation, signifies Great-water or Great-lake. A Jesuit name, Lac Tracy, was never officially adopted.

Pine Marten Run, Hiawatha National Forest , in the Upper Peninsula of Michigan a 26 mile system of hiking and horseback riding trails located in the Ironjaw Semiprivate Area between Munising and Manistique. Close to Hiawatha's Hideaway, Maple Ridge, Heaven on Stevens Lake and Lindberg's Landing!, which has pasture land for your horses.